The Tropical Milkweed plant, a captivating and vibrant plant, is a true treasure for any garden. Its lush green foliage and eye-catching flowers not only enhance the beauty of your outdoor space but also play a vital role in supporting local butterfly populations. As a Florida favorite, this milkweed variety is the perfect choice for those seeking to attract butterflies while adding a burst of color to their garden. With our milkweed plants for sale, you can embrace the wonders of nature while contributing to the well-being of these magnificent pollinators. Discover the world of Tropical Milkweed plant and its delightful blooms, and let your garden come to life with the enchanting presence of butterflies.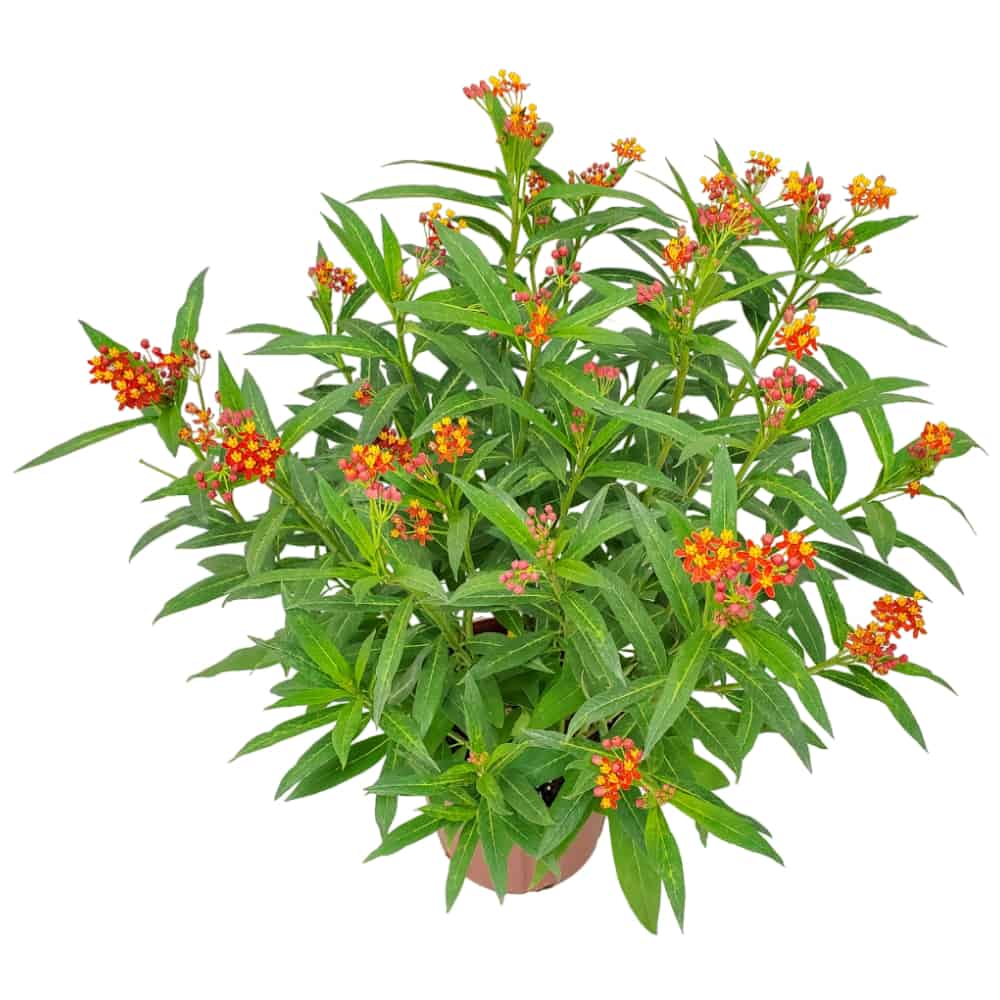 Butterfly Milkweed Plant Care
Scientific Name
Light

The tropical milkweed plant, also known as blood flower, is at its best when basking in full sun, but it can also tolerate some partial shade when grown outdoors. For your garden, choose a location that enjoys ample direct sunlight throughout the day. When cultivating these milkweed plants for sale in pots and shifting them indoors, ensure they are placed in a sunny spot to maintain their vibrant growth and attraction to butterflies.
Water

The tropical milkweed, often known as blood flower, is recognized for its drought tolerance, yet it thrives when provided with consistent moisture. If you observe that the plant's soil is drying out significantly between natural rainfalls, it's advisable to supplement regular rainfall with occasional watering.
Hardiness Zones
Pet Friendliness
Asclepias Curassavica FAQ
What Does Milkweed Look Like?

Milkweed plants typically have thick, erect stems with simple leaves that are often opposite or whorled. They produce distinct, intricate flowers that have a crown-like structure surrounding the central structure where the nectar is held. Milkweed plants are known for their vibrant green foliage and beautiful, brightly colored flowers, making them easy to identify.
Is Milkweed Poisonous?

Many species of milkweed contain toxic compounds, like cardiac glycosides, that can be harmful if ingested. These toxins serve as a defense mechanism against herbivores and make milkweed unsuitable for consumption. However, they are crucial for monarch butterflies and other pollinators, as they have developed resistance to these toxins and rely on milkweed for food and habitat.
What is Milkweed?

Milkweed is a diverse group of flowering plants belonging to the Asclepias genus. It includes more than 100 different species, commonly found in North America, and is known for its importance in supporting the life cycle of monarch butterflies. Milkweed serves as the primary food source for monarch caterpillars and provides critical nectar for various pollinators. These plants have attractive flowers and come in various sizes and colors.
How to Grow Milkweed?

Growing milkweed is relatively straightforward. You can start from seeds or nursery-bought plants, and they thrive in well-draining soil with full sun exposure. Plant the seeds in the early spring or fall, as milkweed plants can be perennials or annuals depending on the species and your location. Be mindful of the specific needs of the milkweed variety you're growing, as they can vary. Once established, milkweed plants require minimal maintenance and provide essential support for pollinators like monarch butterflies.
No false advertising. We use 1 Gallon (6 Inch), 3 Gallon (10 Inch), and 7 Gallon (14 Inch) pots or for hanging baskets we offer 10Inch or 12Inch diameter baskets. Want a plant to liven your home? A green friend to add to your garden, porch, or landscape? Check out our tropical plants!
We care. When you order from Tropical Plants of Florida, your order is not carelessly thrown in a box. First your plant is hand picked from our field by our experts. Then, it is prepped for shipping where we carefully wrap the base to ensure minimum soil spillage while your plant travels to you. After this a recycled paper sleeve is placed around your plant. If your plant is traveling to a colder climate, it gets extra special attention with a recycled blue jean plant-blanket for the ride.
Our promise. Our goal is to ship quality plants. If your plant has gone through our care filled shipping process and come out injured, TPoF is here for you. Please contact us as soon as possible with pictures of your plant.  
We offer shipping availability to all states excluding Alaska and Hawaii.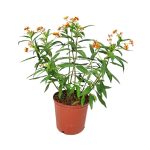 Milkweed Orange
Your review
* Review is required
Email
* Email is required
Add photos or video to your review