1 Gallon Nursery Planter; Overall Height: 14″ to 18″ including 6″ of planter
The Cylindrical Snake Plant, commonly known as the African Spear Plant, is a captivating and unique member of the Sansevieria family, renowned for its distinctively cylindrical, vertically growing foliage. This remarkable plant offers a touch of elegance and contemporary flair to any indoor or outdoor setting, and it's cherished for its remarkable resilience and low-maintenance nature.
With its striking appearance and the ability to thrive in various conditions, the Cylindrical Snake Plant serves as an exceptional choice for plant enthusiasts seeking to add a touch of modern sophistication to their living spaces while enjoying a hassle-free plant companion.
Scientific Name
Light

The African Spear Snake Plant, also known as the Cylindrical Snake Plant, exhibits versatility when it comes to lighting. While it can endure lower light conditions, it thrives with a balance of some direct sunlight and bright filtered light. When placed outdoors, it benefits from morning sun but should be shielded from intense afternoon sun. Indoors, a bright north-facing window is ideal. It's important to strike the right balance, as excessive light can lead to yellowing at the leaf edges, while insufficient light may hinder optimal leaf growth.
Water

African Spear Plants are well-suited to withstand extended dry periods, but they are sensitive to overly wet conditions, which can lead to root rot. It's crucial to allow the soil to dry out between waterings and then water the plant thoroughly. Typically, watering once a week to every other week is sufficient. If you're cultivating your plant in a container, ensure that any excess water draining from the pot is removed from the saucer. During the winter, it's advisable to extend the time between waterings, typically to about once a month, compared to the more frequent schedule during the growing season.
Hardiness Zones

The Sansevieria cylindrica, African Spear Snake plant is rated for Zones 10 to 11.
Pet Friendliness
Sansevieria Cylindrica FAQ
How to Care for African Spear Plant?

Caring for the African Spear Plant, also known as the Cylindrical Snake Plant (Sansevieria cylindrica), is relatively simple. It thrives in bright indirect light but can tolerate lower light conditions. Allow the soil to dry between waterings and ensure proper drainage to avoid overwatering. This plant is generally low-maintenance and can endure a range of temperatures. Regular cleaning of its leaves keeps it looking its best.
Is the Cylindrical Snake Plant Toxic to Cats?

Sansevieria cylindrica, like other snake plants, contains compounds that can be mildly toxic if ingested by cats. Ingestion may lead to mild gastrointestinal discomfort, so it's best to keep the plant out of your cat's reach.
How Difficult is Sansevieria Cylindrica to Care For?

Sansevieria cylindrica, or the Cylindrical Snake Plant, is known for its low-maintenance nature and is considered an easy houseplant to care for. It's tolerant of various lighting conditions, including low light, and is forgiving when it comes to watering. This makes it a suitable choice for both beginners and busy individuals.
How Tall Do Cylindrical Snake Plants Grow?

Cylindrical Snake Plants typically reach a mature height of about 1 to 2 feet. However, growth can vary based on factors like lighting, pot size, and care. These plants are appreciated for their compact and upright growth, making them well-suited for indoor settings or small spaces.
No false advertising. We use 1 Gallon (6 Inch), 3 Gallon (10 Inch), and 7 Gallon (14 Inch) pots or for hanging baskets we offer 10Inch or 12Inch diameter baskets. Want a plant to liven your home? A green friend to add to your garden, porch, or landscape? Check out our tropical plants!
We care. When you order from Tropical Plants of Florida, your order is not carelessly thrown in a box. First your plant is hand picked from our field by our experts. Then, it is prepped for shipping where we carefully wrap the base to ensure minimum soil spillage while your plant travels to you. After this a recycled paper sleeve is placed around your plant. If your plant if traveling to a colder climate, it gets extra special attention with a recycled blue jean plant-blanket for the ride.
Our promise. Our goal is to ship quality plants. If your plant has gone through our care filled shipping process and come out injured, TPoF is here for you. Please contact us as soon as possible with pictures of your plant.  
We offer shipping availability to all states excluding Alaska and Hawaii.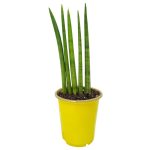 Cylindrical Snake Plant
Your review
* Review is required
Email
* Email is required
Add photos or video to your review