The Yellow Dipladenia Bush, featuring dramatic trumpet-shaped yellow flowers, is a botanical marvel suitable for various settings, from trellises and containers to hanging baskets and indoor spaces. This sun-kissed Dipladenia Bush, with its vibrant yellow flowers, offers a burst of natural beauty that's sure to captivate. Beyond its visual charm, the Yellow Dipladenia Bush acts as a natural magnet, attracting hummingbirds, butterflies, and bees.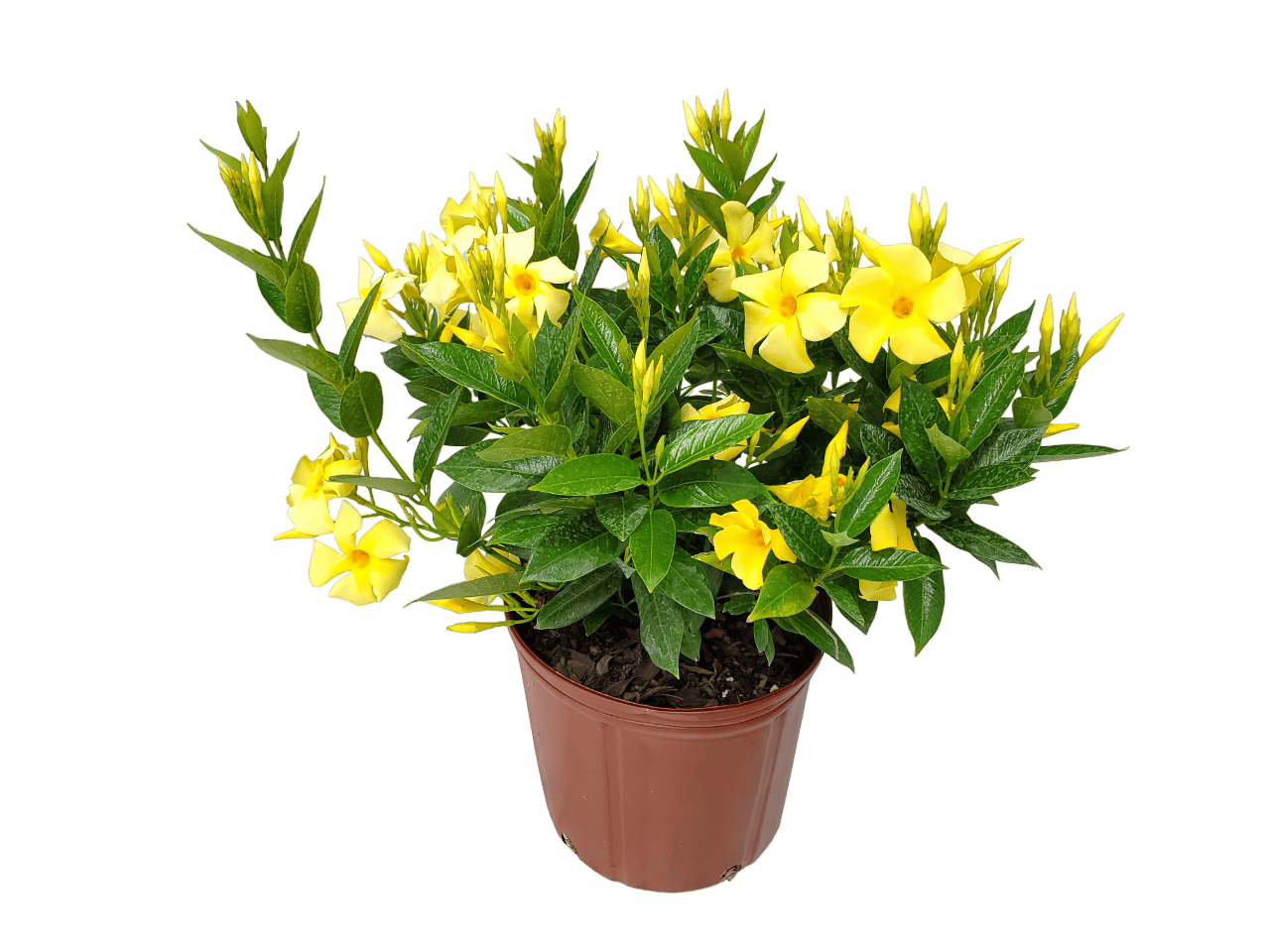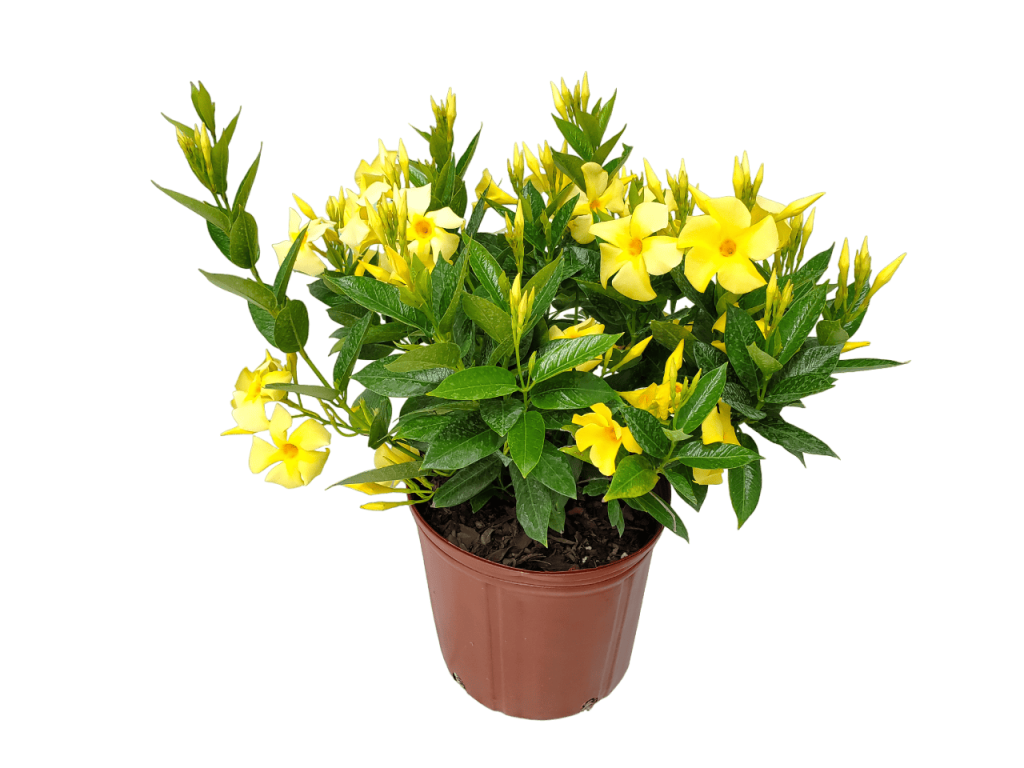 Yellow Dipladenia Plant Care
Scientific Name
Light

Dipladenia Bushes thrive in warm climates and deliver their best performance when nighttime temperatures hover around 65 to 70°F. To ensure their well-being, it's essential to provide your yellow dipladenia plant with partial to full sun exposure, with a preference for indirect sunlight. This optimal environment will encourage their vibrant growth and profuse blooming.
Water

The Dipladenia Bush Yellow benefits from regular watering during its establishment phase. Watering it 2 to 3 times a week is generally advisable to help the plant take root and establish a strong foundation. Once established, you can adjust the watering frequency based on local climate conditions and soil moisture levels to maintain its health.
Hardiness Zones
Pet Friendliness
Dipladenia Bush Yellow FAQ
How to Care for a Yellow Dipladenia Bush?

To care for a yellow dipladenia plant, provide it with a warm climate, preferably with nighttime temperatures around 65 to 70°F. It thrives in partial to full sun, with indirect sunlight being preferable. During its establishment phase, water it 2 to 3 times a week. Adjust the watering frequency as needed once it's established, and provide well-draining soil. Prune for shape and remove spent blooms, and consider overwintering it indoors in colder climates. Check out our full dipladenia plant care guide.
How Big Does a Dipladenia Bush Get?

Dipladenia bushes can vary in size depending on the specific variety and growing conditions. On average, they typically reach a height of 2 to 3 feet, with a similar spread. Some varieties may stay more compact, while others might grow taller if provided with suitable conditions.
Is a Yellow Dipladenia Bush a Perennial?

Yes, yellow dipladenia bushes are typically considered perennial plants, especially in regions with warm climates. They can endure and bloom for multiple growing seasons when provided with the right care. In colder climates, they can be grown as annuals or overwintered indoors. Looking for a yellow dipladenia for sale? Shop dipladenia plants here! 
Can I Plant a Dipladenia Bush Outside?

Yes, you can plant a dipladenia bush yellow outdoors, provided you live in a climate with warm temperatures and favorable growing conditions. Dipladenia bushes thrive when planted in a garden or outdoor setting with partial to full sun and well-draining soil. Be sure to choose a location that meets their temperature and sunlight requirements to ensure their optimal growth and flowering.
No false advertising. We use 1 Gallon (6 Inch), 3 Gallon (10 Inch), and 7 Gallon (14 Inch) pots or for hanging baskets we offer 10Inch or 12Inch diameter baskets. Want a plant to liven your home? A green friend to add to your garden, porch, or landscape? Check out our tropical plants!
We care. When you order from Tropical Plants of Florida, your order is not carelessly thrown in a box. First your plant is hand picked from our field by our experts. Then, it is prepped for shipping where we carefully wrap the base to ensure minimum soil spillage while your plant travels to you. After this a recycled paper sleeve is placed around your plant. If your plant is traveling to a colder climate, it gets extra special attention with a recycled blue jean plant-blanket for the ride.
Our promise. Our goal is to ship quality plants. If your plant has gone through our care filled shipping process and come out injured, TPoF is here for you. Please contact us as soon as possible with pictures of your plant.
We offer shipping availability to all states excluding Alaska and Hawaii.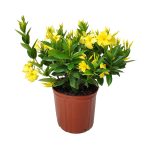 Dipladenia Bush Yellow
Your review
* Review is required
Email
* Email is required
Add photos or video to your review