Dipladenia Vine Pretty Red
The Pretty Red Dipladenia Vine Plant, adorned with vivid red trumpet-shaped flowers, is a botanical masterpiece ideal for various settings, from trellises and containers to outdoor vines. This sun-drenched Dipladenia Vine, with its lively red flowering vine, provides a burst of natural beauty that's sure to captivate. Beyond its visual charm, the Red Dipladenia Vine plant acts as a natural magnet, drawing hummingbirds, butterflies, and bees to your garden or outdoor space.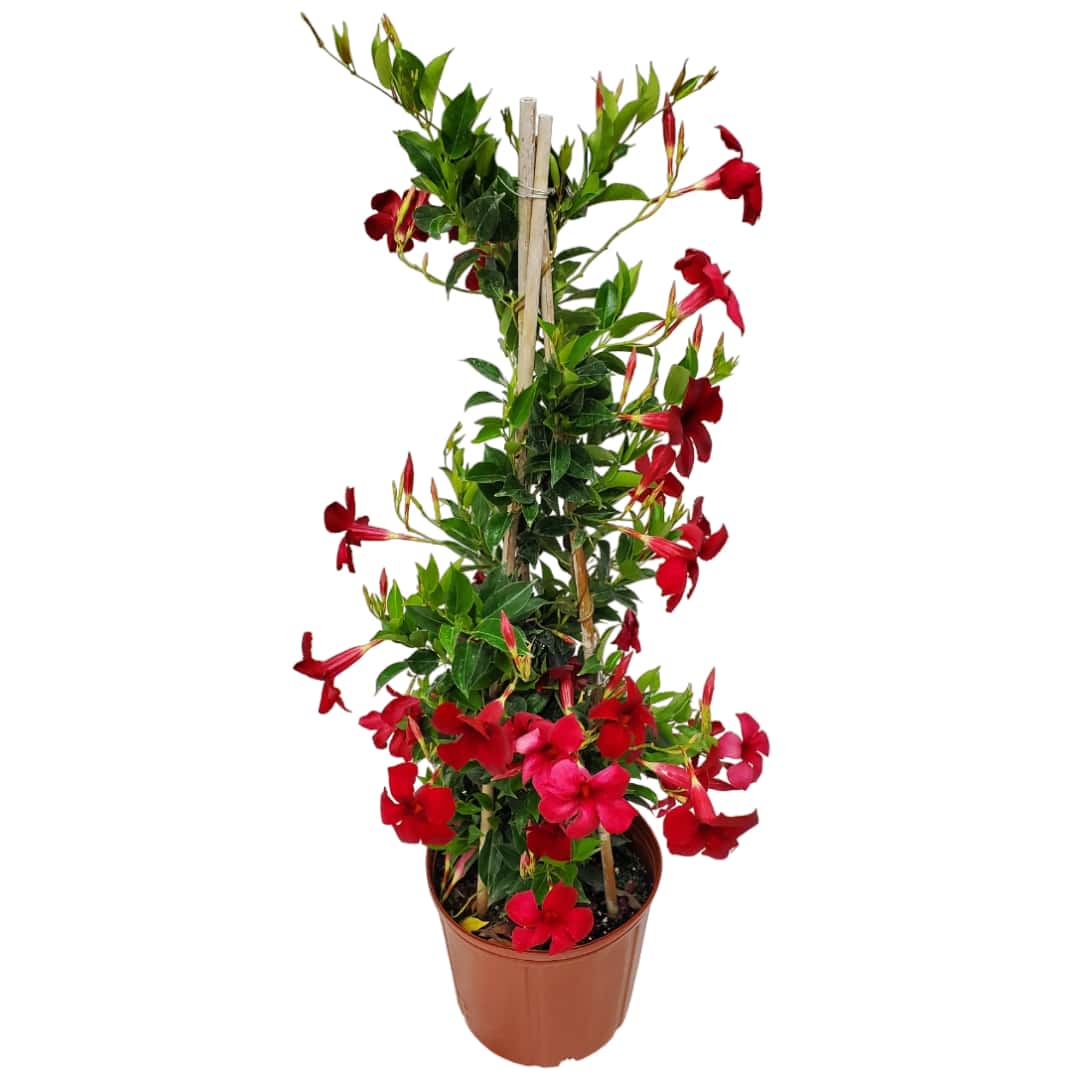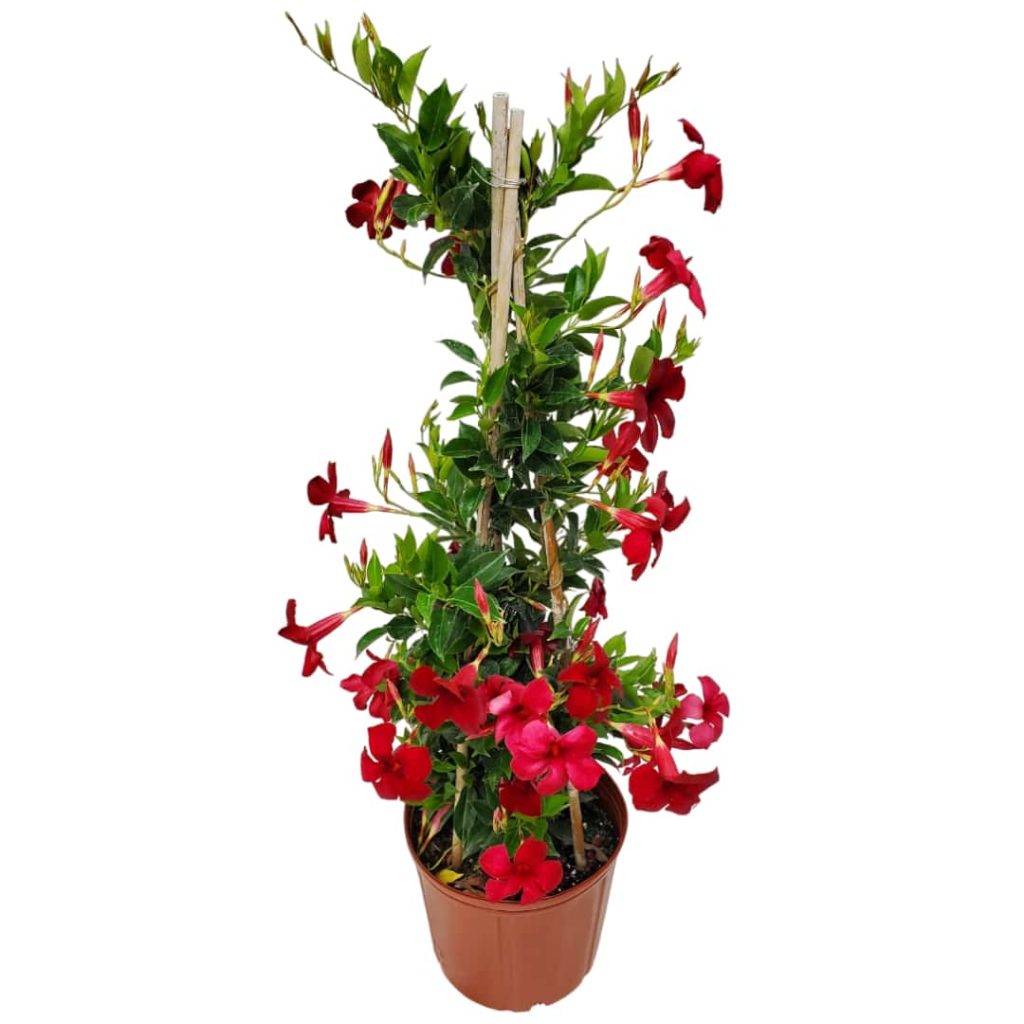 Scientific Name
Light

Thriving in warm climates, the Red Dipladenia Vine Plant reaches its full splendor when nighttime temperatures linger around 65 to 70°F. To nurture this vibrant vine plant, ensure it enjoys the perfect blend of partial to full sun exposure, with a particular fondness for indirect sunlight. This preferred environment not only supports robust growth but also enhances its abundant blooming, making it a captivating addition to your garden, trellis, or outdoor vines.
Water

During the establishment phase, the Pretty Red Dipladenia Vine Plant benefits from consistent watering, typically recommended at a frequency of 2 to 3 times a week. This regimen promotes the development of strong roots and a sturdy foundation for the plant. After the plant is firmly established, you can adapt the watering schedule to align with local climate conditions and soil moisture levels, ensuring the ongoing health and vibrancy of this dynamic red flowering vine among your outdoor vines.
Hardiness Zones
Pet Friendliness
Pretty Red Dipladenia Vine FAQ
How to Care for a Pretty Red Dipladenia Vine Plant?

Caring for a Pretty Red Dipladenia Vine Plant involves providing it with ample sunlight, typically 6 hours of direct or indirect sunlight per day. Regular watering, allowing the top inch of soil to dry before rewatering, and occasional fertilization during the growing season will promote its health and vibrant red flowering vines. Pruning can help maintain its shape and encourage more blossoms, making it a beautiful addition to your outdoor vines. Check out our full pretty red dipladenia plant care guide.
How to Grow Vines on a Fence?

To grow vines on a fence, select suitable vine varieties like the Dipladenia Vine and ensure the fence receives adequate sunlight. Install trellises or wires for the vines to cling to. Plant the vines near the fence, allowing them to naturally attach and climb. Regular pruning and training help guide the vines and maintain a tidy appearance.
Is Dipladenia a Climbing Plant?

Yes, Dipladenia is a climbing plant known for its twining and climbing habit. It naturally clings to support structures, making it an excellent choice for trellises, fences, or outdoor vines.
Do Hummingbirds Like the Dipladenia Vine Plant?

Yes, hummingbirds are often attracted to Dipladenia vine plants. The vibrant trumpet-shaped flowers and their nectar content make Dipladenia a natural magnet for hummingbirds, adding to the charm of your garden or outdoor vines.
No false advertising. We use 1 Gallon (6 Inch), 3 Gallon (10 Inch), and 7 Gallon (14 Inch) pots or for hanging baskets we offer 10Inch or 12Inch diameter baskets. Want a plant to liven your home? A green friend to add to your garden, porch, or landscape? Check out our tropical plants!
We care. When you order from Tropical Plants of Florida, your order is not carelessly thrown in a box. First your plant is hand picked from our field by our experts. Then, it is prepped for shipping where we carefully wrap the base to ensure minimum soil spillage while your plant travels to you. After this a recycled paper sleeve is placed around your plant. If your plant is traveling to a colder climate, it gets extra special attention with a recycled blue jean plant-blanket for the ride.
Our promise. Our goal is to ship quality plants. If your plant has gone through our care filled shipping process and come out injured, TPoF is here for you. Please contact us as soon as possible with pictures of your plant.  
We offer shipping availability to all states excluding Alaska and Hawaii.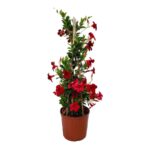 Dipladenia Vine Pretty Red
Your review
* Review is required
Email
* Email is required
Add photos or video to your review