Dipladenia Vine Pretty Pink
The Vining Dipladenia Plant in the enchanting "Pretty Pink" variety is a delightful testament to nature's elegance and charm. This exceptional member of the Dipladenia family graces your garden with cascading vines adorned by a profusion of stunning pink blossoms. Its vining nature allows it to gracefully drape over trellises, hang from baskets, or embellish garden beds, making it a true botanical gem. Be prepared for a plethora of pretty pink flowers!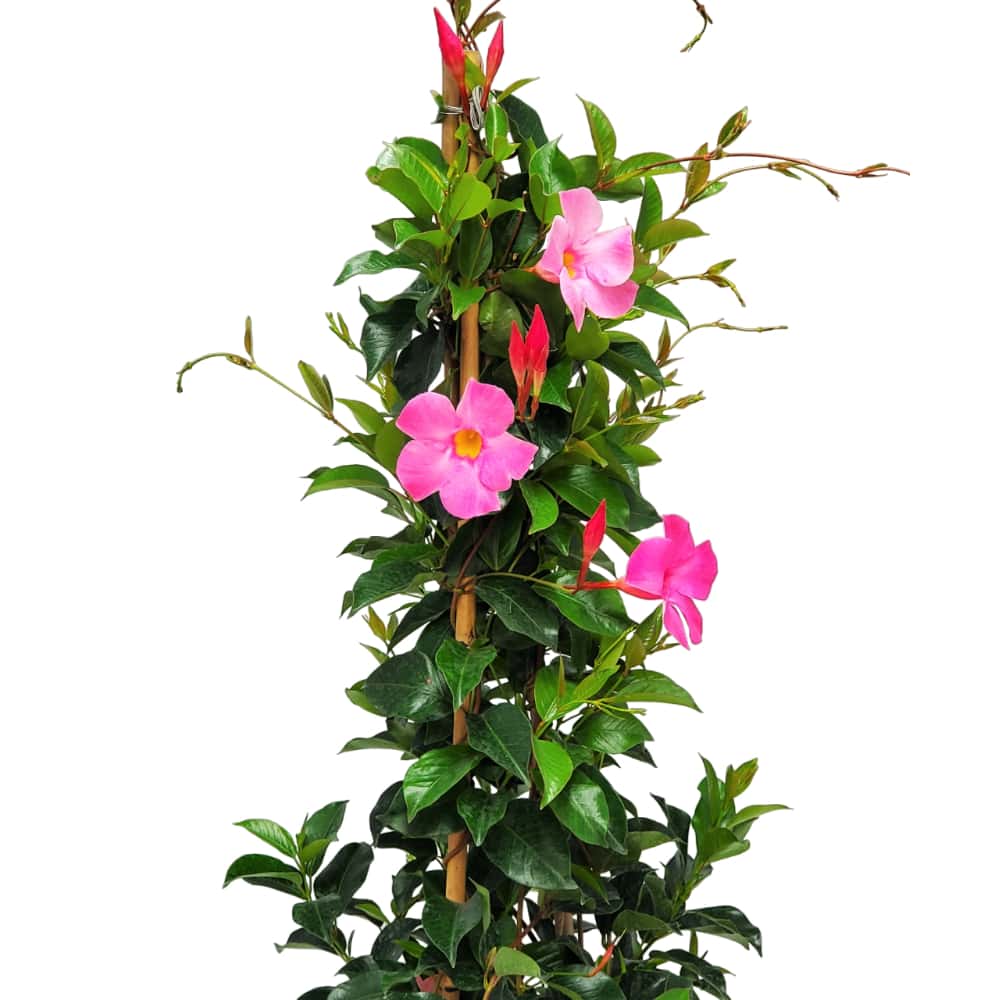 Pink Dipladenia Vine Care
Scientific Name
Light

The Pink Dipladenia Vine plant, a close relative of the Mandevilla, has a preference for sunlight over shade, although this pink flowering vine can tolerate partial shade. These vines thrive and produce abundant blooms when bathed in full sun, receiving at least six hours of direct sunlight on most days. Nevertheless, this pink vine plant may benefit from some shelter during the scorching afternoon sun in the height of summer. Growing Pink Dipladenia Vines in containers offers the added advantage of flexibility, allowing you to move the plant to a shadier spot as necessary to protect the foliage from scorching.
Water

Differing from numerous flowering plants, the Pretty Pink Dipladenia Vine, a part of the Mandevilla species, boasts a unique ability to endure moderate dryness without hindering its continuous flowering. Nevertheless, this pink flowering vine plant thrives when there's a steady level of moisture. The goal is to maintain the soil consistently damp but avoid waterlogging. When it comes to watering, a gradual approach is essential to allow the soil to effectively absorb the moisture. Additionally, misting the leaves serves a dual purpose: it helps deter pests and enhances humidity around the plant, nurturing its health and radiance.
Hardiness Zones
Pet Friendliness
Pretty Pink Dipladenia Vine FAQ
How to Care for a Pretty Pink Dipladenia Vine Plant?

Caring for a Pretty Pink Dipladenia Vine involves providing it with ample sunlight, as it thrives in full sun or partial shade. Maintain consistent moisture by ensuring the soil remains slightly damp but not waterlogged. Pruning can help maintain its shape and promote bushier growth. With its vibrant pink blossoms, this pink vine plant is sure to attract admiration in your garden. Check out our full pretty pink dipladenia plant care guide.
Do Dipladenia Climb?

Yes, Dipladenia vines are natural climbers. They possess a climbing and trailing habit, making them well-suited for trellises, arbors, and other supporting structures in your garden.
How to Prune a Dipladenia Vine?

Pruning a Dipladenia vine is essential for maintaining its shape and encouraging bushier growth. Prune it in the early spring to remove dead or damaged growth and promote new shoots. You can also prune throughout the growing season to control its size and shape as needed.
Do Hummingbirds Like Dipladenia?

Yes, hummingbirds are often attracted to Dipladenia plants due to their vibrant and trumpet-shaped blossoms. These charming flowers serve as a natural magnet for hummingbirds, adding a touch of wildlife and enchantment to your garden.
No false advertising. We use 1 Gallon (6 Inch), 3 Gallon (10 Inch), and 7 Gallon (14 Inch) pots or for hanging baskets we offer 10Inch or 12Inch diameter baskets. Want a plant to liven your home? A green friend to add to your garden, porch, or landscape? Check out our tropical plants!
We care. When you order from Tropical Plants of Florida, your order is not carelessly thrown in a box. First your plant is hand picked from our field by our experts. Then, it is prepped for shipping where we carefully wrap the base to ensure minimum soil spillage while your plant travels to you. After this a recycled paper sleeve is placed around your plant. If your plant is traveling to a colder climate, it gets extra special attention with a recycled blue jean plant-blanket for the ride.
Our promise. Our goal is to ship quality plants. If your plant has gone through our care filled shipping process and come out injured, TPoF is here for you. Please contact us as soon as possible with pictures of your plant.  
We offer shipping availability to all states excluding Alaska and Hawaii.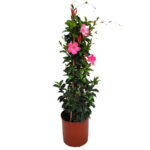 Dipladenia Vine Pretty Pink
Your review
* Review is required
Email
* Email is required
Add photos or video to your review