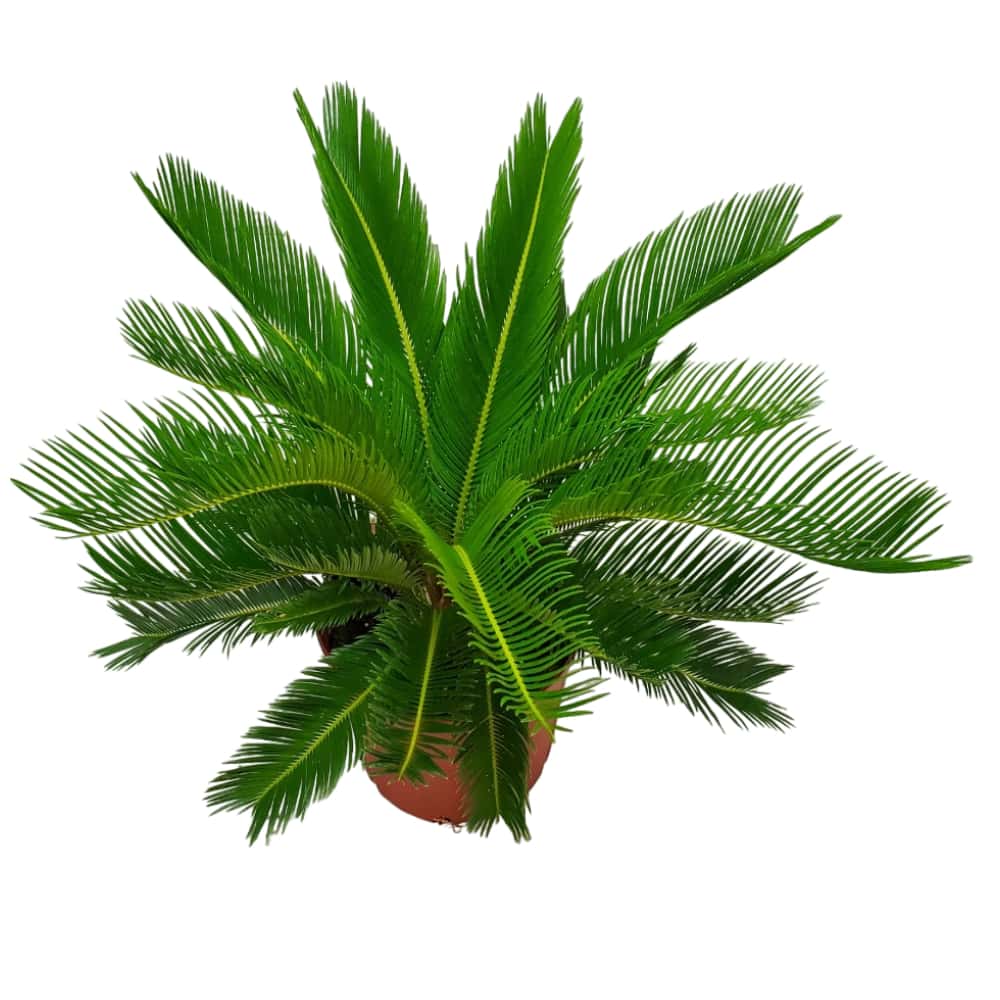 Scientific Name
Light

Sago Palms thrive in environments with bright, indirect light, making them an excellent choice for spaces with abundant natural illumination. It's crucial to avoid exposing them to direct sunlight, especially during the scorching afternoon hours of summer, as this can lead to wilting and leaf burn. Striking the right balance, providing partial shade, is essential for maintaining a healthy plant with lush foliage. When cultivating Sago Palms indoors, opt for a location near a bright east, west, or south facing window. If desired, these indoor companions can venture outdoors in warm weather, provided they are placed in an area with dappled sunlight.
Water
Hardiness Zones

The Sago Palm tree plant is rated for Zones 7 to 10.
Pet Friendliness

Not safe. Sago Palms are toxic to pets. 
How to Care for a Sago Palm?

Sago palms thrive with thoughtful care. Provide them with bright, indirect light, avoiding direct sunlight. Moderation is key in watering; maintain slightly moist soil without overwatering to prevent root rot. Sago palms prefer well-draining soil. Regular fertilization during the growing season aids in their lush appearance. Pruning damaged or yellowed fronds promotes overall health. While hardy, protect them from frost, especially in colder climates.
How Big Do Sago Palms Get?

Sago palms are known for their slow growth. In optimal conditions, they typically reach a mature height of 8 to 10 feet, although some specimens can grow larger over many years. The growth rate is influenced by factors like sunlight, soil quality, and care practices. Patience is essential with sago palms, as their compact growth contributes to their unique charm as ornamental plants.
When Do Sago Palms Grow New Leaves?

Sago palms exhibit new leaf growth during their active growing season, which typically occurs in spring and summer. Warmer temperatures and increased sunlight stimulate this growth phase. As the season progresses, you may notice fresh, vibrant fronds emerging from the center of the plant. Adequate watering, fertilization, and optimal environmental conditions during this period contribute to the development of healthy, new leaves.
Are Sago Palms Poisonous to Dogs?