Spruce Up Your Tennessee Home with Florida's Tropical Plants!
Citizens of the beautiful state of Tennessee, welcome to Tropical Plants of Florida, where we can help you transform your garden into a lush, tropical oasis! Tennessee offers an ideal environment for growing tropical plants as annuals (or perennials if you choose wisely and winter indoors).
Tennessee falls into USDA hardiness zones 5a to 8a, offering a suitable climate to grow tropical plants. Summers in Tennessee are typically hot and humid with temperatures reaching into the 90s (F). This warm weather generally allows for an extended growing season, so you will be able to enjoy your tropical plants a little bit longer!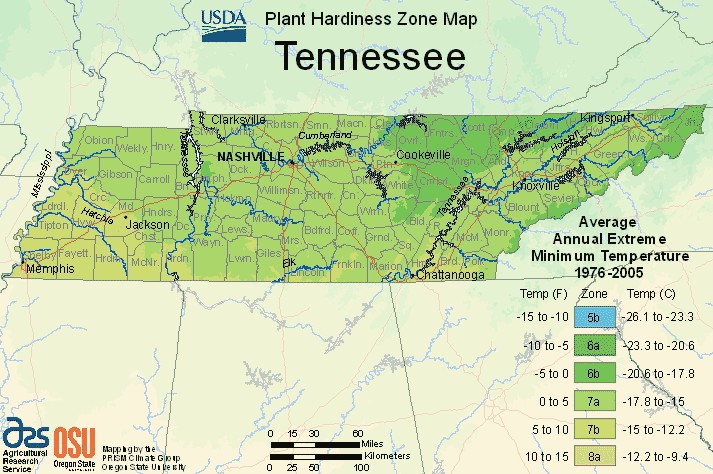 When choosing tropical plants for your Tennessee home, remember that the state enjoys 200 days of sunshine on average, so there are plenty of sunny days to provide necessary light for proper growth and development of sun-loving tropical plants. With this ample sunlight, you can cultivate a wide range of vibrant and exotic plants that thrive in Tennessee's favorable conditions. 
Speaking of favorable conditions, residents of Tennessee there is one more perk to growing tropical plants in your state: humidity. Tennessee experiences moderate to high humidity levels, especially during summer months, which is highly favorable for tropical plants. The average relative humidity ranges from 65% to 80%, providing necessary moisture for tropical plants to thrive in Tennessee. With proper care, you can create and enjoy a beautiful and thriving exotic, tropical garden in Tennessee.
The Best Tropical Plants for Tennessee
Tropical Plants of Florida offers various types of tropical plants for Tennessee that include the following:
Canna Lily thrives in Tennessee's climate, displaying vibrant blooms from late spring to early fall. Ideal for USDA Hardiness Zones 7 to 10, it requires well-draining, fertile soil, full sun to partial shade, and consistent moisture. Canna Lilies add a tropical flair to Tennessee gardens and attract pollinators.
Ixora Maui, an exotic flowering plant, grows well indoors in Tennessee. Suited for containers, it requires well-draining, acidic soil, bright indirect light, and consistent moisture. Fertilize with acidic plant food during the growing season. Ixora Maui adds a tropical touch to Tennessee homes with its vivid blooms and serves as an attractive indoor accent plant.
Dipladenia Hanging Basket Coral

Dipladenia, an attractive flowering plant, flourishes outdoors in Tennessee blooming from spring until fall. Perfect for hanging on your front porch, it prefers well-draining soil, bright indirect light, and moderate moisture. Fertilize with a balanced plant food during the growing season. Dipladenia brings a splash of color to Tennessee homes with its beautiful trumpet-shaped blooms, making it an eye-catching indoor accent plant.
Order from the Best Selection of Tropical Plants Online Now
Our goal at Tropical Plants of Florida is to ship quality plants to your doorstep. We guarantee all of our plants, please contact us with any issues or inquiries. 

One of our customers says,
Priscilla, on March 2, 2023
5 out of 5 stars    
"I was so excited to get my patio tree in! It is beautiful! Shipping was amazingly quick, with the tree packed very well. Will definitely buy from this shop again."

Shop Now and order your next favorite tropical plants to grow in Tennessee!