Mandevilla Trellis Apricot
Plant: Apricot Mandevilla Trellis
Size: Small (S) | 18″ to 20″ tall,  including 6″ of planter | 1 Gallon Planter
Large (L) | 36″ tall,  including 10″ of planter | 3 Gallon Planter
Sample Pack of our Tropical Plant Fertilizer
If your nightly temperature is 38°F or below, you need to add a large heat pack for this plant.
We are not responsible for cold damage if you do not purchase a heat pack.
Mandevilla plants are gorgeous, showy plants. They are wonderful in containers or beds, but are best when able to climb a trellis, fence, or another form of support. It attracts hummingbirds and butterflies.
The Apricot Mandevilla Trellis is rated for Zones 9 to 11.
Click here to find your zone!
Mandevilla plants like filtered sunlight or bright, indirect light. These plants can burn with full sun exposure, however sun is necessary for healthy blooms.
For watering, keep the Apricot Mandevilla Trellis plant consistently moist. Between waterings allow the soil to get almost dry. Make sure this plant has good drainage to avoid root rot development.
No false advertising. We use 1 Gallon (6 Inch), 3 Gallon (10 Inch), and 7 Gallon (14 Inch) pots or for hanging baskets we offer 10Inch or 12Inch diameter baskets. Want a plant to liven your home? A green friend to add to your garden, porch, or landscape? Check out our plants!
We care. When you order from Tropical Plants of Florida, your order is not carelessly thrown in a box. First your plant is hand picked from our field by our experts. Then, it is prepped for shipping where we carefully wrap the base to ensure minimum soil spillage while your plant travels to you. After this a recycled paper sleeve is placed around your plant. If your plant if traveling to a colder climate, it gets extra special attention with a recycled blue jean plant-blanket for the ride.
Our promise. Our goal is to ship quality plants. If your plant has gone through our care filled shipping process and come out injured, TPoF is here for you. Please contact us as soon as possible with pictures of your plant.  
We offer shipping availability to all states excluding Alaska and Hawaii.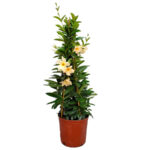 Mandevilla Trellis Apricot
Your review
* Review is required
Email
* Email is required
Add photos or video to your review