Tropical Plants for Arkansas Residents
If you're in Arkansas and dreaming of a tropical paradise, you don't have to book a ticket to Florida – just head over to Tropical Plants of Florida! We have an unbelievable selection of tropical plants for Arkansas residents that can bring the lush beauty of the tropics into your home.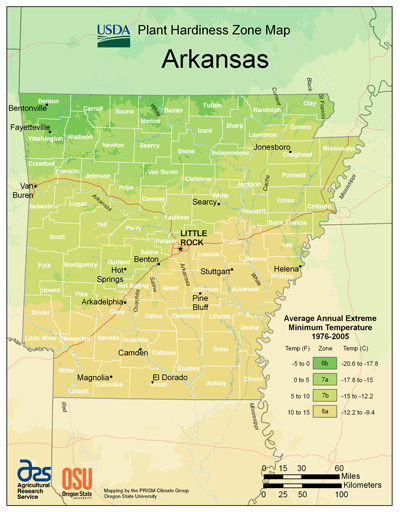 Arkansas' USDA hardiness zones range from 6b to 8a.
Arkansas is well-known for its long, hot summers and shorter, often icy winters. The summers in this humid state regularly reach 100 degrees Fahrenheit or more.
This makes the typical 70% humidity levels feel even more oppressive. Little Rock receives more rain than the national average yearly while experiencing more sunny days than other states. 
While winters tend to be mild in Arkansas, there is a risk of extreme weather conditions, such as tornadoes, during March, April, and May. Springtime also brings storms that can be especially dangerous; strong winds and hail are familiar with these thunderstorms. Temperatures at the bases of the mountains are usually more relaxed than in other areas in the state, but even then, they can become quite warm during the summer. 
People living in Arkansas should be aware of potential flood risks due to its ample rainfall each year. Heat waves and high humidity levels are also crucial factors to consider when considering how hot it can get during the summer.
The Best Tropical Plants for Arkansas
Here are some tropical plants that will flourish in your Arkansas home, living space, or garden:
Plumbago Imperial Blue thrives in Arkansas's climate, blooming vibrant blue flowers from late spring to early fall. Suited for USDA Hardiness Zones 5-9, it requires well-draining soil, full sun to partial shade, and moderate watering. This low-maintenance plant adds color to gardens and attracts pollinators in Arkansas.
Macho Fern flourishes in Arkansas's climate, producing lush green fronds that provide a tropical feel. Ideal for USDA Hardiness Zones 9-11, this hardy fern requires moist, well-draining soil, and partial to full shade. Macho Ferns are low-maintenance, adding texture and greenery to Arkansas gardens while tolerating local weather conditions.
Dwarf papyrus is a type of plant that can thrive in a bog-like atmosphere, making it a great option for Arkansas' extreme weather conditions. This plant is easy to grow and can add an exotic touch to your garden or home decor. With the right amount of water, sunlight, and soil, the dwarf papyrus can flourish and make a beautiful addition to your indoor or outdoor space.
Order from the Best Selection of Tropical Plants Online Now
Our goal at Tropical Plants of Florida is to ship quality plants to your doorstep. We guarantee all of our plants, please contact us with any issues or inquiries. 

One of our customers says,
John, on April 19, 2022
5 out of 5 stars    
"Even better than expected! Arrived quickly, packaging was exceptional and the plant is HUGE and healthy! Very happy with purchase. "

Shop Now and order your next favorite tropical plants to grow in Arkansas!